John C. Robinson Memorial, 3106 Union Road, Gastonia, N.C. 28056
Welcome
Founded in 1951, Robinson Memorial Presbyterian Church maintains its small church atmosphere, but continues to grow in many ways. We are conveniently located just north of Robinson Elementary School on Union Road in south Gastonia. Please join us for worship on Sunday or for any of the events listed on our calendar.
---
School supplies for Robinson Elementary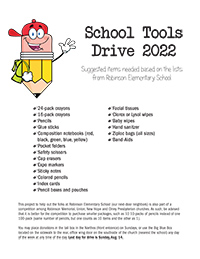 The campaign is on and going strong! For a third year we are collecting school supplies that can be used by students at Robinson Elementary School, our next-door neighbors. We started this drive two years ago in response from a challenge from Union and New Hope Presbyterian churches: who could collect the most for their respective near-by elementaries? We won the first year and came in second last year. Where we place this year depends on you! Download a list of supplies being requested by clicking this link. Bring your donations to the church, either on Sundays during worship, or anytime of the day or night by dropping items off in the Big Blue Box, located on the south side of the building near the office wing door. Deadline for donations is Aug. 14.
---
Indoor and online services
With Covid-19 seeming to be in a lull, we are back to worshipping in person in our sanctuary. Masking remains an individual choices and those who prefer wearing them are welcome as are those who do not. A reminder that you can still sit in your vehicle and listen on the radio (see below). If you can't make it or don't feel comfortable being around crowds, you can still worship with us each week. An online version of each week's service will be available above as of noon Sunday. And you can always go to our YouTube channel for all of the previous services.
---
Hear us on your radio!
OK, you can't hear us from home, but in the immediate area around the church you'll now be able to listen into all of our services live by using your radio. We have a low-power FM transmitter allowing you to sit in your vehicle and hear everything if it gets too chilly, too warm or whatever. Tune your radio to 94.3 FM.
---
Faith in times of crises
"For I am convinced that neither death, nor life, nor angels, nor rulers, nor things present, nor things to come, nor powers,  nor height, nor depth, nor anything else in all creation, will be able to separate us from the love of God in Christ Jesus our Lord." These are the words from Paul in his letter to the church at Rome. It's a good reminder for all of us during the COVID-19 episode our nation and the world is experiencing. We advise following recommendations from health officials, but also remember that God's ultimate plans can not be thwarted by man or virus. And God is always faithful to His promises. Be careful, but be faithful as well.
---